SAELA HF57YAF Hygiene Gate
HF57YAF gate is the most completed unit for a hygienic work process and a perfect solution for efficient hand cleaning in accordance to HACCP, IFS, NSF and other standards. Since the sensors, there is no superfluous usage of chemicals and/or time. While the hands are washing , soles are cleaning . the compact and floor mounted design make the install easy and also , providing enough space between hand disinfection units and a turnstile passage. In addition, the HF57YAF ensures that your hands are dried before they placed in the disinfection cylinders.
Our technology ensures that the liquid applied on whole of your hands so that you can disinfect them while keeping hands sanitizer consumption is saved. 
Features:


 Stainless steel construction .
On 9 adjustable feet.
Passing railing .
WASHING
:
Washing with water and soap.
Rinsing with water.
Detecting hands by infrared sensor.
Soap dispenser by micro pump with adjustable dispenser.
Control by electro valve.
SOLE WASHING
:
Soles washing by two longitudinal nylon brushes. Motorized brushes by help of two 0.19 kW moto reducers Network of water pipes, driven by electro 1/4"valve. Disinfectant dispenser. Non slipping sheet to the entrance. Presence detector for starting up the brushes at the passage in both directions. manual detachable Covers, grates and brushes for easy cleaning.
DRYING
:
Automatic drying hands by full automatic drying machine .
Removable wastebasket.
STERILIZATION
:
Sterilization by sterilizing liquid and pulverization by atomization. Control by double infrared photo sensor.
AUTOMATIC PASSAGE BARRIER
:
The barrier allows to pass one person after hands & shoes sterilizing, The barrier arms are advanced, stopped and self-positioned through a mechanical system.
ELECTRICAL SWITCHBOARD
:
Electric switchboard is inside the cupboard.
Electric switchboard in fibre, IP-55, to distance, for the sole washing machine and another switchboard for the control of the wash & sterilize of hands equipped inside the same stainless steel cupboard.
Moeller material.
Installed power : 0.7 Kw. Handling to 24 V.
Electrical connection : 220 V AC (50 Hz)
Product Properties:
| Title | Details |
| --- | --- |
| Model | SAELA HF57YAF |
| Type | Hygiene Gates |
| Control Mode | Automatic |
| Communication Interface | RS232, TCP/IP, Ethernet |
| Length | 2300 mm |
| Width | 1210 mm |
| Height | 1566 mm |
| Housing Material | Stainless Steel 304 |
| Arms Material | Stainless Steel 304 |
| The Length of Arm | 500 mm |
| Input Voltage | AC 110∼220 v |
| Operation Voltage | DC 24v |
| Power(Standby) | 15 w |
| Power(Peak) | 140 w |
| Operation Temperature | 1∼60 Centigrade |
| Flow Rate | = 5 Passage/Minute |
| Working Environments | Indoor |
Technical Plan:
Support and Warranty:
All products of SAELA Industrial Group have 2 years warranty.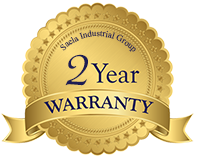 Files:

User Guide
Gallery: